This is one of my regular disclosure posts. You can read more of them here.
HashiConf Global 2022 was held in Los Angeles, CA from 4-6 October 2022. I attended as a guest of HashiCorp.
Flights and Accommodation
HashiCorp generously paid for economy class Qantas flights to and from MEL-LAX on a fare class that I could upgrade using frequent flyer points. Only my flight from MEL to LAX was upgraded (to premium economy), and I sat right up the back of the bus on my flight home from LAX to MEL. It was a very full flight.
I structured a tour of several US cities around HashiConf, since I was flying all that way for the first time in three years. My company, PivotNine, paid for all other accommodation and travel.
4 October 2022
I flew into LAX from San Francisco after morning meetings. My flight was delayed a bit after some maintenance issues, so I didn't arrive at the conference hotel, the JW Marriott at L.A. Live, until around 8pm. I used Lyft, which I paid for.
I was given a suite, which was vastly more space than little old me needed. The bed was comfy and the shower was hot, which is most of what I care about when travelling, really.
Registration was closed, so I couldn't attend the welcome reception, but I caught up with some colleagues and HashiCorp staff in the lobby bar for a bit. I had a beer and some really quite excellent garlic fries, shared with the table. This was paid for by HashiCorp staff.
I was in bed by 10pm as it'd been a long day, and I had two conference days ahead.
5 October 2022
For breakfast, I had a simple coffee in my room which was, in hindsight, a mistake.
I went to registration and picked up the conference bag and tshirt along with my pass. I dropped them back in my room before going to the keynote.
HashiConf has adopted the practice of providing optional pronoun stickers which has been common at developer conferences for a while, but was rare at enterprise conferences before Covid-19 hit. This is excellent to see, and I hope more conferences adopt this practice. In fact, I think they should be prepared to justify why they have not if they don't. Stickers are cheap.
I spent most of the day in the analyst program and in meetings with various execs.
At lunchtime, I absconded from the venue with fellow analysts Keith Townsend and Tim Crawford to try a local delicacy called a French dipped sandwich. They dip the bread (or the whole sandwich, if you order it 'wet') in some sort of broth and it has roasted meat on it. It's pretty simple.
Keith very generously paid for our lunch. I had a single-dipped beef sandwich and a root beer and while I'm glad I had the experience, I can't say I'd rush back to have another French dipped sandwich. This is no slight on my hosts, and I am always glad to learn something about local culture and cuisine.
Pre-dinner I had a beer with HashiCorp folks (which they paid for) and then went to the conference party that was held at a place called Hauser and Wirth. I had some sushi and oysters, because I enjoy risk, and also a plate of some chicken and vegetables. I also had a couple of plastic cups of wine, though without much enthusiasm. There was nothing wrong with the wine, I think I just wasn't really in a wine mood.
The party finished at 9pm so I went back to the hotel on the shuttle bus and went to bed.
6 October 2022
For breakfast I wisely decided to have a proper coffee made by the baristas at the conference, which is why I regretted my coffee choice from the day before. The espresso latte was quite good.
I attended the keynote again, and then had a bunch of 1:1 meetings.
The Research and Insights team had asked people to draw their infrastructure as art therapy, and it was gratifying/humbling/amusing to see other Extremely Online people have also poisoned their brains with memes.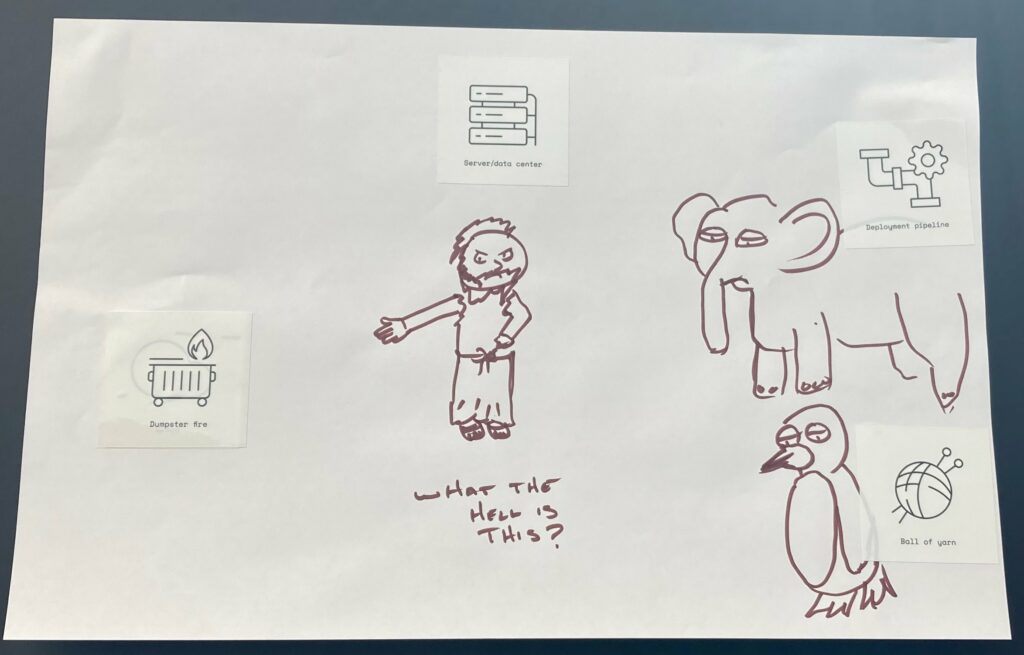 For lunch I ate at the conference, which was a selection of Mexican style options like cheese enchiladas and beans and rice. Fuel to keep going, really.
Things were winding down by mid-afternoon, so after a few final conversations with people around the show, and a quick scan of the show floor, I headed to the airport to fly to Portland. I had a light dinner at the Alaska lounge at the airport while I waited for my flight and got to my hotel in Portland around midnight.
Swag, etc.
Two canvas bags: one the conference swag pack, and one specific to analysts.
The conference t-shirt, but they'd run out of size S in men's so I got a women's/fitted size S for my wife.
A pair of HashiCorp branded socks.
A pack of salted popcorn.
A pack of toffee flavour mini-cookies. They did not like travelling in my bag very much and were half crumbs by the end of my trip.
An allegedly banana-flavoured energy bar thing. It was super gross and I only had the one bite.
A small packet of nuts. This became a snack one afternoon in Portland.
A small packet of granola. This became breakfast one day in Portland.
An Oak9 branded wireless charging pad. It doesn't appear to work very well with my iPhone, alas.
A Microsoft Azure branded bag tag with a QR code on it that goes… somewhere.
A LaunchDarkly branded webcam cover
A Cribl sticker
A couple of pairs of socks from Sophos that say Game Over in a retro pixel font on the ankle.
Various vendor card things designed to get you to come to their booth.
A "Greetings from HashiConf" postcard.
Some silver stickers from the Research and Innovation team, including a binfire one that was quite popular.